The Firm
Consultants forestiers DGR inc. is above all a group of people: Forest Engineers, Forest Technicians, Photo-Interpreters, Computer Analysts and Cartographers. In matters concerning monitoring, development, management and utilization of forest resources, DGR is recognized in the Province of Quebec and through Eastern Canada as a leader in forestry and that, since its founding in 1960, as can testify clients involved in the forest sectors.
SERVICES OFFERED
The personnel from DGR constitutes a complement to its' clients regular staff and brings them a technical support that is familiar with State-of-the-Art technologies and principles. The Firm, through its' mastering of modern methods in forestry management, silvicultural, harvesting and wood transformation, facilitates the task of the Decision Makers in supplying them with the major elements that are essential in their search for a rational solution.
Forest resources monitoring: photo-interpretation, forest stand typing, mapping, development of sampling strategies, timber cruising and information reporting, annual allowable cut calculations, evaluation of the resource potential.
Management and development of forest areas: general and five-year management plans, annual intervention plans, forest management and silvicultural treatment programs.
Wood harvesting: economical analysis of different logging systems, logging plans, road layouts, financial analysis, impact assessments.
Implantation and development of forest industries: timber supply evaluations and strategies, new forest products, upgrading of lower quality and/or smaller dimension lumber, feasibility analysis, long term wood supply plans and programs.
Computer utilization: development of specific computer programs, forest inventory computations, engineering, development and utilization of forest information related databases and geographical information systems (GIS), harvesting simulation models, forest intervention follow-up methods.
Specialized statistical method services: forest inventory sampling methods, optimal sampling plans, engineering of experimental systems, biometrical analysis.
Forest evaluation services: economical evaluation of standing timber, forest land, forest infrastructures (road, bridges, dams, camps, etc.) logging machinery, forest fire damages.
Other services: drafting of technical briefs, relation with Governments, arbitration.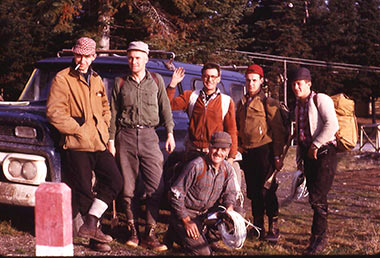 Inventory team in 1961.